Now Available
FROM Cambridge Scholars Publishing
Academic Publishers
GROUP DYNAMICS:
THE POLITICS AND POETICS OF FRIENDSHIP
EDITED BY Fabio A. Durão and Dominic Williams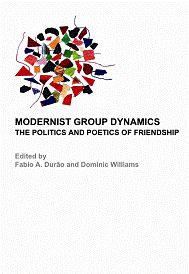 For decades, the study of literary and philosophical modernism concerned solitary figures like the flâneur, the exile, and the lonely genius, but recently the group formations that fostered modernist movements have emerged into view. The essays in Modernist Group Dynamics: The Poetics and Politics of Friendship pursue this new direction in modernist scholarship, exploring the ways artists and intellectuals worked in concert and in conflict. Placing group formations, with all their promises and problems, at the centre of our study allows the contributors – scholars from around the world – to reconsider some of the best known figures of European modernism, to analyze collaborations across national boundaries, and to recover modernist groups in unexpected contexts like the so-called Third World.
Fabio Akcelrud Durão holds a Ph.D. from Duke University's Literature Program and is currently Professor of Literary Theory at the State University of Campinas (Unicamp). He is the author of Modernism and Coherence (Peter Lang, 2008), has co-edited three books in Portuguese, including A Indústria Cultural Hoje (Boitempo, 2008), and published several articles on modernism, Brazilian critical theory and the Frankfurt School.
Dominic Williams gained a PhD from the Centre for Jewish Studies, University of Leeds, where he was also Leverhulme Fellow 2005-07. He now teaches at the Universities of Leeds and Reading. He is completing a book manuscript on antisemitism and Jewishness in the Pound Circle, focussing on the Jewish writer and publisher John Rodker.
ISBN 1-84718-508-8. 275 pp. Hardback. £39.99/ USD79.99
Order online at www.c-s-p.org
By e-mail at orders@c-s-p.org or by fax at +44845 299 1908.
For general enquiries, contact us at admin@c-s-p.org
CSP, PO Box 302, Newcastle upon Tyne, NE6 1WR, UK.